WINPLUS is an innovative water flow dyeing machine suitable for pre-treatment,dyeing,after treatment of fabric in rope form.
◇ Extra low liquor ratio,1:3-4.5 for normal active dyeing,water consumption is Between 25-45L per kg fabric(from Light to Dark Color)
◇ Even-flow system makes the dyeing liquid circulating in horizontal manner during processing,which increased 300% circulation ratio.
◇ Even-flow dosing system to ensure consistence of dyeing liquor when contact fabric through the pressure modulation nozzle to avoid un-even dyeing.
◇ Minimized Lifting Height design ensures minimum fabric tension during processing.it is most important for the size stable of sensitive fabric like Lycra,Spandex,Viscose,Modal after dyeing.
◇ Typical Processing time can be 4.5-5hours.
TECHNICAL DATA
Liquor ratio:1:3-5
Max. lifting speed:500M/min.
Designer temperature:100℃
Designed pressure: Atmospheric
Heating gradient:5℃/min.from25℃-100℃
Cooling gradient:2℃/min.from100℃-85℃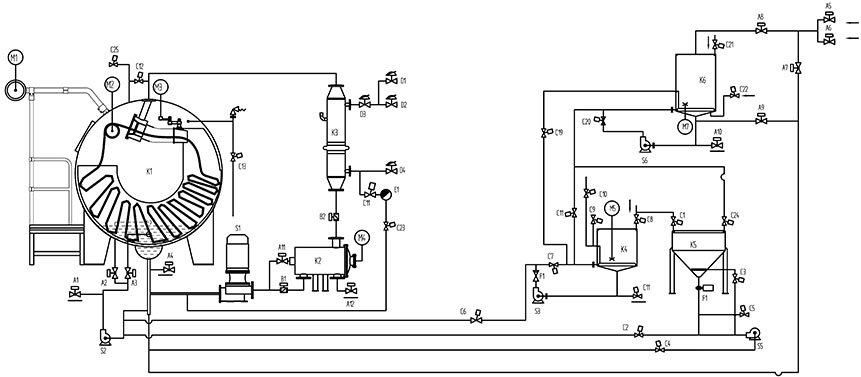 K1, Main Kier K2, Filter K3, Heat Exchanger K4, Dosing Tank K5, Salt Dosing Tank K6, Storage Tank
S1, Main Pump S2, Circulation Pump S3, Dosing Pump S5, Salt Dosing Pump S6, STK Dosing Pump